The Weekend Guide to Yosemite
From a stunning château to California cuisine, discover the luxe side of this bucket list destination.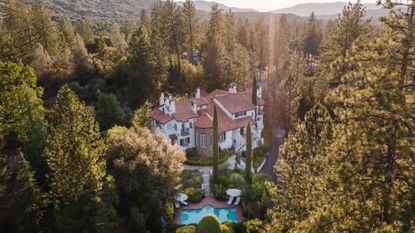 (Image credit: Château du Sureau)
Yosemite is a bucket-list National Park for its thundering waterfalls, ancient sequoias, and iconic hikes. And to add to the appeal, you can now find top-tier hotels and restaurants nearby to retreat after an adventure-packed day at the park. Whether you opt to conquer climbs like Half Dome and El Capitan or simply gaze upon them as you emerge at Tunnel View, eight-square-mile Yosemite Valley has the bulk of the park's most famous attractions. The entire park is much more expansive, though, with nearly 1,200 square miles of land. You could spend months exploring the park and surrounding area, but for a weekend at Yosemite, here is what you can't miss.
Stay at Château du Sureau
Just because you're visiting a national park doesn't mean you have to camp! Château du Sureau is just 16 miles from Yosemite and offers an enchanting escape at the foothills of the Sierra Nevada mountains. The boutique estate has ten unique guestrooms, plus the luxurious two-bedroom Villa du Sureau that will make you feel like French royalty.
Dine at The Elderberry House
The Yosemite area's most notable restaurant, The Elderberry House is a tasting-menu-only concept where your meal is in the capable hands of Chef Chris Flint. With a focus on seasonal and local Central Valley ingredients, The Elderberry House is legendary for its impeccable service and showstopping food. Opt for the wine paring or dive into the curated cocktail menu.
Tour Yosemite National Park
While you can do a self-directed tour of Yosemite, going with a guide like Discover Yosemite means you can spend the drive taking in the beauty of the national park instead of figuring out where to go. Plus, learn about the history of the region from the Ahwahneechee people to the California Gold Rush to John Muir along with present-day highlights like the filming of Free Solo at Half Dome.
Stand in Awe at the Mariposa Grove of Giants
One of Yosemite's most popular attractions, the giant sequoias at the Mariposa Grove are breathtaking. The Grizzly Giant stands guard over the grove, a sequoia estimated to be somewhere between 2000 and 3000 years old. Check ahead to see if the shuttle is running from the Mariposa Welcome Center – if not, factor in an additional 2-mile walk each way to get up to the Grove of Giants.
Apres-Hike at the Cellar Bar
Cozy up at the Cellar Bar after an arduous hike (or chill pool day!) for a fabulous cocktail in an understated wood and stone crypt beneath The Elderberry House. For a more casual vibe, head to happy hour on Thursdays and sample the Coquelicot Estate Wine.
Try Forest Bathing
To fully immerse yourself in the healing power of nature, try Forest Bathing as part of your Yosemite weekend. Forest bathing doesn't include dunking yourself in water, just connecting with nature through your six senses. By going with a guide, like The Mindful Cafe, you can learn techniques to more fully center and ground yourself… plus end the experience with a forest tea ceremony!
Soothe Your Aches at the Spa
After a long day of hiking, head to Spa du Sureau for a massage and self-care. The Art Deco-themed spa also offers treatments like the Hydrostorm, an oversized shower (big enough for couples!) that alternates hot water and steam for head-to-toe relaxation.
Michelle Stansbury is a San Diego-based freelance writer who writes about travel, food, cannabis, and relationships. Misuse of the word "literally" drives her figuratively insane.